1.New shortcut key guide for design interface
A new "Shortcut Keys" category has been added to the design interface. Click the Help icon in the upper right corner to view and use the shortcut keys, which help you design more conveniently and quickly!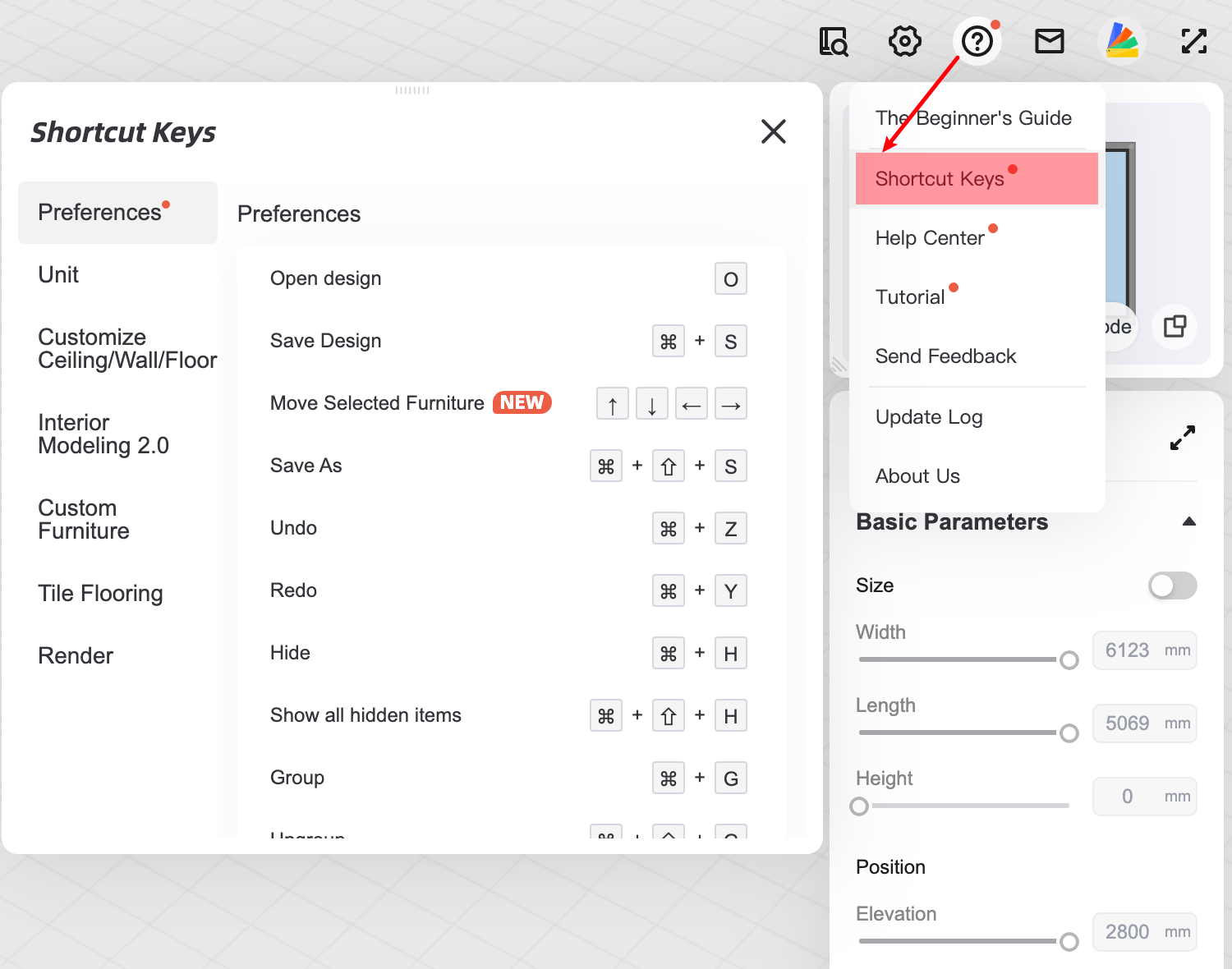 2.Optimize the top toolbar of the design interface.
This update of Homestyler merges and adjusts the existing top toolbar, which greatly improves the efficiency of search and design.
Optimization 1: The "Material Brush" is merged into the "Tools" category. You can also click the shortcut key (B) to use the material brush, which will make your design more convenient.

Optimization 2: The "Flip Plane" and the "Check Wall closure" function have been adjusted from the original second-level category to the first-level category under "Construction", which is now classified according to the function type and is more intuitive and clearer.

Optimization 3: The "Clear" function has been adjusted from the original second-level category to the first-level category, which is intuitive, clear, and easy to use.

Optimization 4: When the mouse hovers to the "Render" function, you can quickly select the required rendering type, which improves rendering efficiency.

3.The furniture models support the "Arc Array" function
In restaurants, hotels, and other commercial scenes, it is often necessary to place circular arrangements for similar furniture models. The "Arc Array" can place and arrange the model according to the center point.
Instruction:
1)Switch the view to "plane" (shortcut key 1), left-click to select a model and click "Arc Array".
2)Select a starting point, then determine the endpoint, and enter the array angle and quantity on the canvas to complete the array, which helps you quickly arrange and duplicate the models.
Note:
-The lamp models support not only arc array, but also linear array function. The operation method is the same as above.
-The linear array function will be available for furniture models soon.